Welcoming Eid al-Adha 1442 Hijriyah, PT Nusa Palapa Gemilang Tbk this year distributed cows as sacrificial animals for the community. The quality of the sacrificial animals is strictly selected to ensure the healthy, quality, and following the sharia. Those animals are obtained from trusted breeders.
Handing sacrificial animals to the community is carried out by implementing health protocols to break the chain of the spread of COVID-19. The ceremony for handing over the sacrificial animals on Tuesday, July 20, 2021, was carried out directly by the President Director, Mr. Uus Sudianto. "Eid al-Adha is a very special moment of worship because it teaches caring. This activity is a tangible manifestation of PT Nusa Palapa Gemilang Tbk's concern for others, especially those who are affected in the midst of this condition. Hopefully, we can continue to share and increase solidarity in social life so that we can survive and through this COVID-19 pandemic together," said Mr. Uus Sudianto.
The sacrificial committee team helps ensure that the slaughtering and handing over of sacrificial animals this year is following the health protocols and applicable government regulations to break the chain of the spread of COVID-19. After slaughtering the qurban, then the meat is packaged and distributed to the people who are entitled to it. The distribution of sacrificial animals for people in need is in line with the Company's Corporate Social Responsibility (CSR).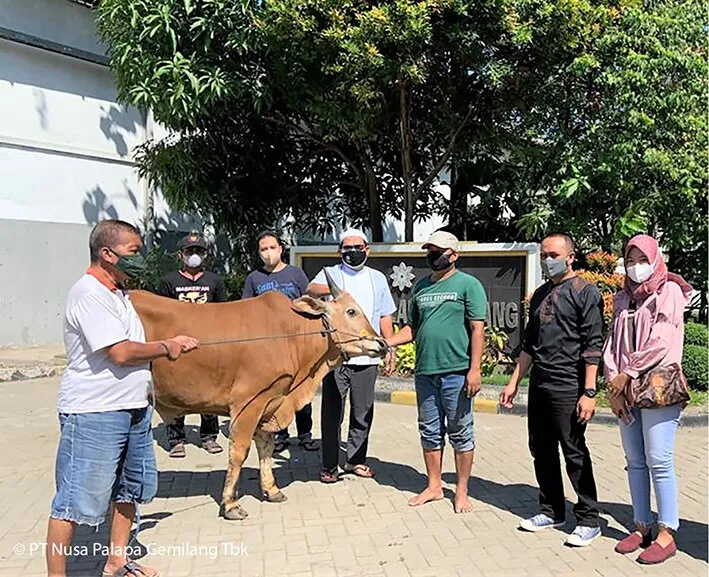 The company's management believes that social care for the surrounding environment will create harmonious social relationships so that a safe, conducive work environment can be realized, and has a good impact on residents.