Acacia crassicarpa fertilized using CCF Ferticote as basic fertilizer, had a higher plant height and larger stem diameter than plants using ordinary granular NPK fertilizer with specifications 15.15.15.
Fertilization activity is necessary for optimum plant bio-mass production. The purpose of this experiment was to examine the effect of CCF Ferticote fertilizer application on the growth of forestry plants, especially from the species Acacia crassicarpa. The experiment took place in the concession area of an industrial forest plantation (IFP) in Siak Regency.
Carbon Coated Fertilizer (CCF) Ferticote is an NPK fertilizer that is assembled with special technology to reach the macro and micronutrient needs of forestry plants. This NPK fertilizer is equipped with ACTIVE CARBON, an adsorbent derived from the pyrolysis process of biomass. Has the ability to absorb protein and contains paramagnetic compounds.Act as a slow release of ammonium and nitrate. A system that captures soil humic acid and is a breeding ground for bacteria. In addition, this fertilizer also contains HUMIC ACID, a natural soil enhancer that acts as a natural chelating agent and microbial stimulant. Humic acid increases the ability of plants to absorb essential nutrients and improve soil structure.
Combination of activated carbon and humic acid plays a role in increasing soil carbon, chelating macro, and micro nutrients to increase availability to plants for a longer period of time, increasing soil CEC, stimulating soil bacterial growth.
METHODOLOGY
The experiment was divided into two batches. Batch 1 started in June 2013, while Batch 2 with the aim of verifying data Batch 1 started in December 2013.
The type of plant that used is Acacia crassicarpa. Fertilizers experiment are given to seedlings that have just been planted in the field (when transplanting). The soil type at the experimental site belongs to the order Histosol (Peat).
The treatment given to the plant is as follows:
Batch 1
T1. Ash 1 Kg + RP 150 gr + NPK 15.15.15 100 gr
T2. Ash 1 Kg + RP 150 gr + CCF Ferticote 50 gr
T3. Ash 1 Kg + RP 150 gr + CCF Ferticote 75 gr
T4. Ash 1 Kg + RP 150 gr + CCF Ferticote 100 gr
Batch 2
T1. Ash 1 Kg + RP 150 gr + NPK 15.15.15 100 gr
T2. Ash 1 Kg + RP 150 gr + CCF Ferticote 50 gr
For the treatment in the Batch 2 experiment, T1 and T2 treatments were chosen with the goals to verify the results of the Batch 1 experiment where at a dose of 50 g/principal, CCF Ferticote was able to give better results than NPK 15.15.15 fertilizer at a dose of 100 g/principal.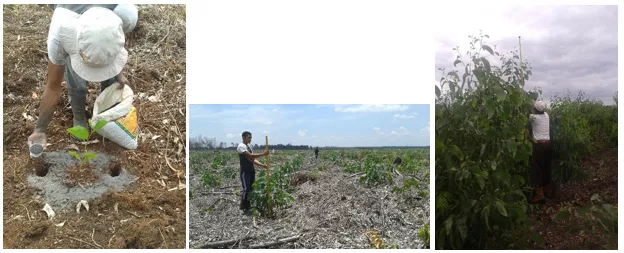 (Left) Acacia crassicarpa at planting and application of CCF Ferticote (Middle) Observation of plant height at 3 months (Right) Plants at 6 months.
Fertilizer is applied by spot placement, fertilizer is sown in the holes on the left and right of the plant. Observations were made by taking 25 sample plants in each plot. Parameters and observation time are:
Plant Height : Age 3, 6, and 12 Months after planting
Stem Diameter : 12 months after planting
RESULTS AND DISCUSSION
Batch 1
At the age of 12 months, all treatments using CCF Ferticote (T2, T3, and T4) gave better results than Acacia crassicarpa has given NPK 15.15.15 fertilizer. The best results were shown by treatment T4 (100 g CCF Ferticote/plant) for plant height parameters and T3 treatment (75 g CCF Ferticote/plant) for stem diameter parameters.
In the plant height parameter, there was the consistency of data where, the greater the dose of CCF Ferticote given, the higher the Acacia crassicarpa produced. Meanwhile, the diameter of the stem at T4 experienced a large decrease in diameter. This requires further study.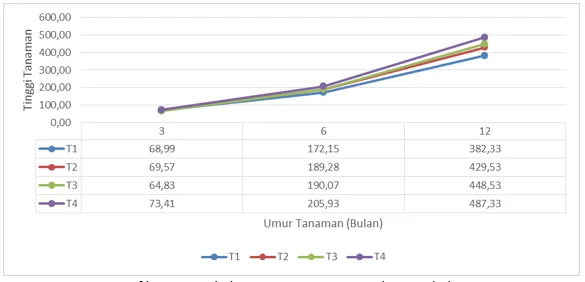 Graph 1. Growth of Acacia crassicarpa for 12 months
The pattern of plant height growth shown in the 4 treatments in this experiment showed a consistent pattern where the T2, T3, and T4 treatments always gave better results than T1 each time. At the age of 3 months, the plant height of T3 was lower than that of T2. This happened because, in one of the T3 replication plots, many plants had stunted growth due to drought stress that occurred in the period June-August 2013. At the age of 6 months (September 2013), the growth pattern of the 4 treatments returned to normal.
Batch 2
As a verification of the results of the experiment which began in June 2013, Batch 2 has been carried out which began in December 2013. The data in graph 2 shows that the plants tested in Batch 2 gave better results than Batch 1. For comparisons between treatments still showed consistent results where Acacia crassicarpa given CCF Ferticote showed higher plant height than those given NPK 15.15.15.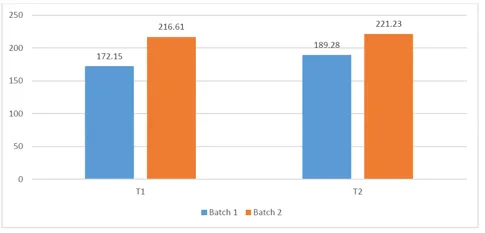 Graph 2. Comparison of plant heights of Acacia crassicarpa aged 6 months between Experiments Batch 1 and 2.
CONCLUSION
The use of CCF Ferticote as a basic NPK fertilizer in the cultivation of Acacia crassicarpa gave better results than the use of NPK 15.15.15 fertilizer at a dose of 100 g/tree. Ferticote CCF fertilizer can be applied at dosage levels of 50, 75, or 100 g/tree depending on the desired results.
***